Watertown, New York – Congresswoman Elise Stefanik, a senior member of the House Armed Services Committee, today was joined by Congresswoman Claudia Tenney (NY-24) for a tour of Fort Drum and meeting with Major General Gregory Anderson, Commanding General of the 10th Mountain Division. During their visit, Stefanik and Tenney discussed energy resiliency at Fort Drum, housing on the base, and viewed the projects Stefanik secured through her work in the annual National Defense Authorization Act (NDAA).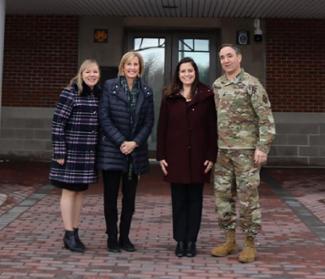 "As the leading advocate for Fort Drum and the 10th Mountain Division, I am proud to work each year to strengthen the Fort Drum community, increase our military readiness, and support the families of servicemembers in New York's 21st District," Congresswoman Stefanik said. "Today, I was able to view these projects I have secured at work equipping our 10th Mountain Division soldiers and supporting our Fort Drum families. It was an honor to be joined by Congresswoman Tenney, and I look forward to working with her as we bring the concerns of Jefferson County to the highest levels and deliver results for Fort Drum in this year's NDAA."
"The brave men and women of Fort Drum's 10th Mountain Division are at the forefront of protecting our nation from threats around the world," Congresswoman Tenney said. "It was an honor to visit Fort Drum today with Congresswoman Stefanik, who is a tireless advocate for Fort Drum. I will continue to work closely with her and community leaders to strengthen our nation's investments in Fort Drum and to support our servicemembers and their families."
Stefanik has secured these major projects in the NDAA for FY2022 and 2023:
$3.6 million for the planning and design of a new firing range for the Next Generation Squad Weapon (NGSW) to prepare Fort Drum to access the most updated weapons and better prepare soldiers for deployment,
$27 million for the Wellfield Expansion Resiliency Project to allow Fort Drum to have additional control and resiliency in its water supply, and
Over $27.3 million to complete Fort Drum's Railhead Project that will expedite the rapid deployment of troops, vehicles, and equipment from the base.