Washington, D.C. – Congresswoman Elise Stefanik joined her House Republican colleagues to highlight the major legislative victories that the House GOP has already delivered on behalf of the American people.
In her remarks, Stefanik detailed how House Republicans are hard at work to fulfill their Commitment to America by passing her legislation, the REIN IN Inflation Act, that will provide a critical check on the Biden Administration. House Republicans have also doubled down to block Democrats' soft-on-crime policies, reintroduced the Parents Bill of Rights, and blocked Joe Biden's woke ESG rule.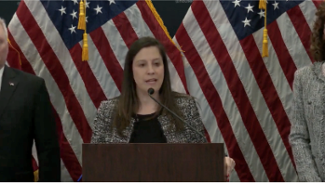 Read a full transcript of her remarks below.
House Republicans remain focused on providing critical checks and oversight on the Biden Administration and delivering results on our Commitment to America. In the last week alone, House Republicans have delivered major legislative victories for the American people. Meanwhile, House Democrats are in total disarray in their caucus and with Joe Biden.
Last week, I'm proud the House passed my bill with bipartisan support, the REIN IN Inflation Act. House Republicans and 59 Democrats are rightfully putting critical checks on the Biden Administration and holding Joe Biden accountable for his reckless spending fueling inflation.
The Senate passed our CRA which would block Biden's woke ESG rule. Wall Street should not use your retirement savings to fund left-wing political causes.
And this week, the Senate will pass House Republicans' resolution from Andrew Clyde to restore law and order in our nation's Capital and repeal D.C. Democrats' City Council's soft-on-crime and pro-car jacking bill – those are the words of Joe Biden. And we look forward to it becoming law after Joe Biden publicly whipped against it and then changed his stance and said he would sign it.
As a new mom, I am particularly proud of House Republicans' continued fight against Democrats' war on parents. Last week, Congresswoman Julia Letlow reintroduced the Parents' Bill of Rights with an event with Speaker McCarthy, parents, and students. As promised, we are putting power back in the hands of parents who deserve a seat at the table in their kids' education.
Our legislative victories in the new House Republican Majority speak for themselves, and we are just getting started!
It is my pleasure every week we highlight a freshman, and this week I'm going to introduce Congressman John Duarte from California, a farmer who is going to discuss House Republicans' efforts to reverse Joe Biden's flawed and burdensome WOTUS rule.