Washington, D.C. – Congresswoman Elise Stefanik, a senior member of the House Committee on Education and the Workforce, exposed that Joe Biden's illegal student loan bailout would increase inflation and force hardworking families who chose not to go to college to foot the bill at today's hearing.
During her questioning, Dr. Carlo Salerno, an economist and financial aid expert, also confirmed that the metric in her PELL Act, which expands educational and credentialing opportunities for workers looking to gain skills in high-demand fields, would improve transparency and reduce uncertainty when applied to all programs at all institutions receiving federal student aid dollars.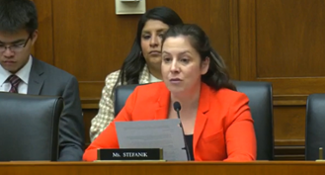 Watch her full line of questioning here
View highlights from her questioning below:
On student loan bailout's impact on hardworking NY-21 families:
Stefanik began her line of questioning by showing Americans' concerns, "The American people are rightly concerned with just how fundamentally unfair and unjust the Biden Administration's trillion dollar student loan bailout and policies are for hardworking American families. Those hardworking American families who may have chosen not to go to college, or perhaps could not afford it, or worked responsibly to pay off their loans, but yet they are going to foot the bill for this trillion dollar bailout and they'll also feel the effects of more and more painful Bidenflation."
Stefanik pointed out the impact of this student loan bailout by saying, "In your testimony you mention the Biden plan would increase inflation by 15 to 27 points, while lining the pockets of the wealthy and those with advanced degrees. In my district in Upstate New York and the North Country, approximately three-quarters of the constituents that I represent do not hold a bachelor's degree or higher – that includes my immediate family members, who are very successful, community leaders, who are very successful, local elected officials, CEOs of successful manufacturing companies and small businesses."
Stefanik then asked, "What sorts of negative impacts will nearly those three-quarters of my constituents see as a result of Joe Biden's painful policy proposal?"
Marc Goldwein, Senior Vice President and Senior Policy Director, Committee for a Responsible Federal Budget, confirmed that NY-21 families would be forced to bear the cost of this bailout by saying, "Anybody that is not benefitting directly from the debt forgiveness is going to be hurt indirectly by the higher inflation that causes it. We estimate about a quarter point increase in inflation – that means higher prices at the grocery store, higher rents, higher prices at the gas pumps…The real risk is if that higher inflation pushes us into a recession."
On Stefanik's work to expand educational opportunities and skills for in-demand jobs:
Stefanik pointed out a better way to increase transparency and accountability when equipping Americans with the skills to fill in-demand jobs saying, "The Department (of Education) has traditionally relied on a debt-to-earnings measure for assessing whether programs led to gainful employment for their graduate, but that doesn't consider the $30 billion in Pell Grants we disburse each year that may be paying for programs that provide a negative return on investment.
She then made a case for her policy solution by saying, "The Promoting Employment and Lifelong Learning Act, or the PELL Act, that I introduced along with Dr. Foxx and members of this Committee, proposed strong accountability guardrails including measuring whether the program's price is aligned with the earnings boost that graduates receive three years after obtaining their credential. Is this metric something that could be applied to all programs at all institutions receiving federal student aid dollars if Congress were to re-write gainful employment in statute?"
Dr. Salerno supported her policy proposal and even its expansion by saying, "The answer is yes…a three-year metric has value in the sense that it gives enough runway for students to get into their career earnings, but it also limits the time of exposure to a point where we can no longer attribute their gains to something other than college. It's valuable…It's easy to understand."
Dr. Salerno concluded by stating, "We understand the concept of ROI…the fact that it could be used here for all institutions improves transparency and reduces uncertainty, and improves comparability."