Orlando, FL – Last night, Congresswoman Elise Stefanik sat down with Punchbowl News at the 2023 House Republican Issues Conference to discuss the early successes of the new Republican Majority and the progress they are making on their Commitment to America agenda.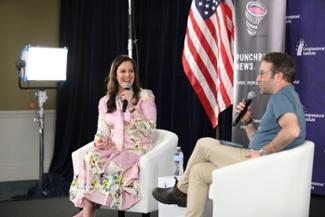 View highlights from her interview below:
On Alvin Bragg's politicized weaponization of the DA's office against Donald Trump:
"I had the opportunity to speak with President Trump this morning."
"This is the epitomization of the weaponization of the federal government against political opponents. Donald Trump is the leading Republican candidate in every poll, so he is the leading opponent of Joe Biden.
"Being from New York, I think Alvin Bragg is the most radical DA. We have this significant crime crisis in New York State – it is one of the reasons we picked up four Congressional seats. At the same time as you have him politically targeting and persecuting President Trump, he is lowering felonies and misdemeanors, which is one of the reasons crime has skyrocketed in New York City."
On the balancing the budget:
"Joe Biden submitted his budget a month late, it is in a stark contrast in terms of his vision for America – trillions and trillions of dollars in more spending, tax increases. We will present a budget that brings our budget back towards balance with no tax increases."
"Instead of continuing down this trajectory of trillions of dollars of spending, that we look for where we need to find savings."
On House Republicans' accomplishments:
"People have underestimated what House Republicans could accomplish. We have really set the agenda. Whether it's the D.C. crime bill and forcing Joe Biden's hand, whether it's the ESG CRA, which forced the first Presidential veto, we are driving this policy agenda more than the Senate. We are playing our role as the last backstop."
On House Republicans' commitment to border security:
"We are committed to putting a border security bill on the floor…We are unified as House Republicans in that we must secure the border."
"There has been so much focus on the Southern Border, rightfully so, because it's been a crisis, but I'm at the Northern Border, where we've seen an 800% increase in illegal encounters on the Swanton Sector, which is the areas that I cover. We have not had the resources we need at the Northern Border, because border patrol and CBP personnel have been transferred over and over again to our Southern Border. This impacts every district."
"We had the most secure border under President Trump. We know what policies work. They cannot continue to ignore this border crisis.
"If [Joe Biden] really wants to not spend a single dollar on securing the border, he's going to be judged by the American people, and he's going to be judged as a weak President."