Washington, D.C. – Congresswoman Elise Stefanik pointed out the devastating impact of the Biden Administration's failure to obtain operational control of the border on Border Patrol and Northern Border security during a House Committee on Homeland Security subcommittee hearing.
Stefanik, co-chair of the Northern Border Caucus and a member of the Northern Border Security Caucus, has been leading the charge on bringing attention to the impact of the Biden Border Crisis on the Northern Border for over two years. Today, she was waived on to participate in the House Committee on Homeland Security's Subcommittee on Oversight, Investigations, and Accountability hearing entitled, "Biden's Growing Border Crisis: Death, Drugs, and Disorder on the Northern Border."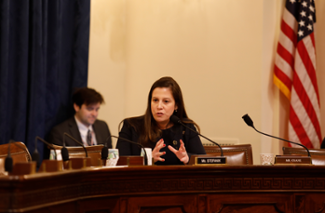 Watch her full line of questioning here.
Highlights from her questioning include:
After Dr. Laura Dawson, the Executive Director of the Future Borders Coalition, asserted she had not spoken to Border Patrol officers recently, Stefanik said, "I speak to Border Patrol officers all the time in my district. I represent 700,000 hardworking Americans that live in my district, and it is an abject disaster what is happening at our Southern Border and the impact it's having on our Northern Border."
Stefanik then asked, "Are you aware that encounters at the Northern Border have surged up 846% in the Swanton Sector that you are so familiar with?"
"That is not a number that I [am familiar with]," Dawson responded.
"Do you disagree with that number put out by the U.S. government?," Stefanik pressed.
When Dawson said that she didn't have the information to agree or disagree, Stefanik asserted that that is the number.
Stefanik then asked Brandon Judd, President of the National Border Patrol Council, "Mr. Judd, because you are familiar with Northern Border patrol officers, because I know you speak to them regularly, as I do in my district, I want to get your input. Do we have operational control over the Northern Border?"
"No, we don't," Judd asserted.
"I'm very familiar hearing from my constituents about the crisis on the Southern Border and how that has impacted the morale of Border Patrol officers up north who have been transferred over and over again to the southern border with no-notice deployments," Stefanik said.
Stefanik asked Mr. Judd about the morale impact and also whether, "We do not have the personnel we need operationally along the Northern Border, specifically the Swanton Sector."
"A little over 25 years, I've never seen the morale lower in the border patrol than it is today," Judd responded. "Make no mistake, we will continue to put on the uniform, we will continue to go out and do the job we are supposed to do. We just won't be happy about the job that we're doing, because we know that we do not have the support of this Administration to actually protect the American people. When you look at how we have taken away from the Northern Border to support the Southwest Border…If we could control the Southwest Border, then we won't touch the Northern Border agents, but because we don't have the policy necessary to secure the Southwest Border, then the Northern Border gets robbed and opens up the gaps we are currently seeing."
"We know when we had a secure border in this country, not that long ago," Stefanik said. "What tools or policies were taken away by the Biden Administration that led to this crisis on both the Southern and Northern Border?"
"It was actually the reimplementation of a tool of what we call catch and release," Judd replied. "When you look at, under President Trump, we got rid of catch and release. When you get rid of the promise that you are going to reward people for violating our laws, they're going to stop coming. We saw that under President Trump…If individuals know that they can violate our laws and get rewarded for violating our laws, of course it is going to happen."
Stefanik continued her line of questioning by saying, "The Biden Administration and Secretary Mayorkas have repeatedly claimed they have operational control of the Southern Border, something that the Chief of the Border Patrol recently disputed in a hearing." Stefanik asked the other witnesses whether we have operational control over the Southern and Northern Borders.
"I don't believe we do," Robert L. Quinn, Commissioner for the New Hampshire Department of Safety, said about his 58 miles of border in New Hampshire and expressed his concern with this crisis spreading. "I was at the Swanton Sector on Friday, I know they are working very hard to the west."
"We don't have anything even approximating operational control…I've never seen the border this bad," Mr. Andrew Arthur, Resident Fellow in Law and Policy, Center for Immigration Studies, affirmed.
"That's the sentiment shared with me by Border Patrol officers and Border Patrol families in my district," Stefanik replied.
Stefanik concluded by stating, "I am proud to be one of the strongest advocates for U.S.-Canadian partnerships and U.S.-Canadian trade. I co-chair the Northern Border Caucus, which is bipartisan. I was one of the leading advocates for making sure we implemented USMCA. We want to continue to strengthen that partnership, not at the risk of having a strong security partnership and a partnership when it comes to securing our border…It is not a partisan issue in my district. This administration has absolutely failed, and it is because of their failures that have caused this crisis on both the Southern and Northern Borders."
New York's 21st District includes parts of the Swanton Sector of the Northern Border, which includes Clinton, Essex, Franklin, St. Lawrence, Hamilton, and Herkimer Counties, as well as the Buffalo Sector, which includes Jefferson and Lewis Counties.