Washington, D.C. – Congresswoman Elise Stefanik, a senior member of the House Committee on Education and the Workforce, joined her colleagues in celebrating the House passage of H.R. 5, the Parents' Bill of Rights. This legislation will give a voice to parents all across the country and ensure they have a say in their children's education.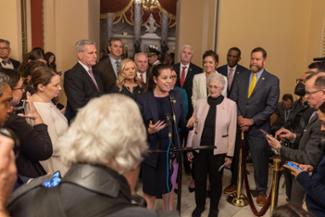 Read a transcript of her full remarks below:
It is clear today that the Republican Party is the party of parents. Not a single Democrat crossed the aisle to vote on behalf of parents and kids across this country. And, as [Majority Whip] Tom Emmer pointed out, this should have been a unanimous vote. This is a clear choice here, folks.
We proudly stand for parents as the driving decision-makers for their kids' education. We stand for transparency, and we stand for educational rigor. As a new mom, that is so important to me.
As I think about one of the keys to the American Dream, it is making sure that we have the very best education, and parents are the drivers to make that happen. I'm proud to be an original cosponsor of the bill as a member of the Education and Workforce Committee.