Washington, D.C. – Congresswoman Elise Stefanik joined House Republican leadership to celebrate the historic, bipartisan passage of the Lower Energy Costs Act (H.R. 1) to address skyrocketing energy costs and Joe Biden's unprecedented war on American energy.
Stefanik also highlighted how House Republicans are governing and delivering results in less than 100 days into the Republican Majority.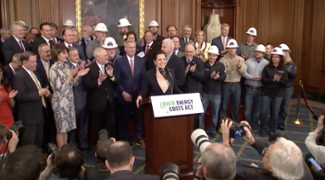 Read a full transcript of her remarks below:
This is a historic day for America. This is about putting American workers first.
This is about putting American families first as we work hard to lower the costs of energy prices that have skyrocketed under Joe Biden's failed and catastrophic leadership.
As the Speaker said, we are less than 100 days into the new Republican Majority, and we are driving the policy agenda.
Just look at the checklist.
We've reopened the People's House, which is why we have a crowded room today. Let's give a round of applause for that.
We repealed the 87,000 IRS agents, we passed the Parents' Bill of Rights, and today we are so proud to pass H.R. 1.
For all of the reporters, it is important to note that multiple Democrats crossed the aisle, because they know that we are governing and delivering solutions.