New York City, New York – Congresswoman Elise Stefanik joined Fox and Friends to discuss how House Republicans are giving victims of New York's violent crime crisis a voice as Democrats seek to silence them ahead of House Judiciary Committee's field hearing on the "Victims of Violent Crime in Manhattan."
Stefanik, who does not serve on the House Judiciary Committee, was waived on to join today's field hearing at the request of Chairman Jim Jordan due to her work combating the pro-crime, anti-victim policies made in Albany and New York City.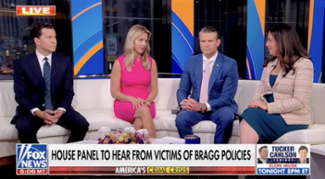 Watch her full interview here.
Highlights of her interview are below:
On the impact of Far Left soft-on-crime policies on New Yorkers:
"New York is the epicenter of this catastrophic crime crisis we're seeing across the country. New Yorkers know this is a direct result of failed Far Left Democrat policies. Whether it's failed bail reform put into place by Albany legislatures under Governor Cuomo and Governor Hochul or whether it's radical DAs who are refusing to prosecute violent crime."
"Democrats…want to silence these victims of crime. We want to give them a voice. They deserve a voice to make sure that the American people and every New Yorker knows that there are consequences that are devastating to these failed policies."
"You cannot open the newspaper every single day in New York and not see more coverage of heinous crimes."
"It's part of the reasons why people no longer feel safe and secure in cities like New York."
On House Republicans' focus on the issues that matter to the American people:
"This field hearing…is what Republicans are committed to, getting across America, getting outside of the beltway, hearing from real Americans.
"It's not just the House Judiciary Committee, it's our House Agriculture Committee, our Ways and Means Committee, our Budget Committee that are traveling around the country to hear firsthand about where these crises are happening. It's why the Homeland Security Committee had a hearing at the Southern Border to hear firsthand from those border patrol officers."
"The reality is we know we work for the American people and we want to hear their feedback."
On rooting out politicization of government agencies:
"When it comes to the FBI and DOJ, there's politicization in those agencies that we have to go after. They should not be political arms of the Democrat party. They should focus on law enforcement and rule of law in this country."
"Using Twitter as, essentially, an arm of the U.S. government, whether it's the FBI paying Twitter over $3 million to suppress the Hunter Biden laptop story or whether it's federal agencies having access to DMs. I'm looking forward to getting more information, not only from the interview, but in our oversight role as Congress. We need to hold Big Tech accountable."