New York City, New York – Congresswoman Elise Stefanik showed the impact of failed bail reform and Manhattan District Attorney Alvin Bragg's policies on skyrocketing crime in New York and shared the stories of victims of this crime crisis during her questioning at today's House Judiciary Committee field hearing in New York City.
Stefanik, who does not serve on the House Judiciary Committee, was waived on to join today's field hearing at the request of Chairman Jim Jordan due to her work combating the pro-crime, anti-victim policies made in Albany and New York City.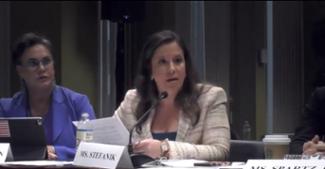 Watch her full line of questioning.
Stefanik showed how Republicans are giving victims of New York's crime crisis a voice:
Stefanik began her line of questioning with a word to the victims of New York's crime crisis by saying, "It's important to note that many of the Democrats on this committee have smeared brave victims and fellow New Yorkers here today, calling them props, a circus, a performance, MAGA Broadway props, and an underlying sham. What have Republicans focused on? We focused on giving victims a voice. We focused on crimes."
Stefanik referred to the witnesses, who have been victims of New York's crime crisis by saying, "We focused on your story as a father visiting your son at the hospital, seeing his face beaten in with an anti-Semitic hate crime. We're focused Ms. Brame on your story as a mother rightfully grieving the loss and advocating on behalf of your son and his legacy. Ms. Harrison, we heard your story about losing your loved one. And Mr. Alba, we heard your story, just the personal challenges you faced dealing with the consequences of the vicious crime perpetrated against you."
"In addition to House Democrats belittling the victims here today, Democrats have politicized this hearing, mentioning Donald Trump 38 times that number for Republicans is zero," Stefanik continued. "We are focused on victims and making sure that we support law and order in this country. There is a catastrophic crime crisis across America, specifically in our great cities and great cities like New York. New Yorkers know it, Americans know it. And while Democrats on this committee may claim that New York is not the epicenter, look no further than the last November election, where we flipped four Congressional seats delivering the House Majority. What was the number one issue? It was crime, because voters are smart. The people are smart."
Stefanik pointed out the impact of New York's failed bail reform and DA Alvin Bragg's failed policies:
Stefanik then asked Paul DiGiacomo, President of the New York City's Detectives' Endowment Association, "In those 40 years [of serving in law enforcement] would you say the crime crisis today is worse than you've ever seen it?"
"That's correct," he stated.
"Crime is up," Stefanik asserted. "Is it fair to say that it is a result of failed bail reform policies in Albany and Alvin Bragg's day one memo?"
"One hundred percent," DiGiacomo confirmed.
"And here are some important numbers," Stefanik added. "In 2022, District Attorney Bragg's first year as DA, New York City saw a 23% surge in major crimes. Is that true?"
"That's correct."
DiGiacomo also confirmed that from 2019 to 2022, murders are up 93%, robberies are up 43%, and felony assaults are up 32% when Stefanik asked.
"And it's fair to say that law enforcement strongly opposed Bragg's day one memo and failed bail reform policies in Albany?"
"One hundred percent," he replied.
Stefanik continued by saying, "In fact, you have said quote, 'Bragg gives criminals the roadmap to freedom from prosecution and control of our streets. In Braggs' Manhattan, you can arrest, deal drugs, obstruct arrests, and even carry a gun to get away with it.' Can you please expound about why law enforcement opposes Alvin Bragg's day one policy and opposes failed bail reform?"
"Every time a detective or a police officer puts himself or herself in harm's way, arresting a felon or anyone for any crime, they're released immediately with no consequences," DiGiacomo concluded.
Stefanik shared the stories of victims of New York's crime crisis with a clear message to Alvin Bragg:
Stefanik then asked Barry Borgen, father of a victim of anti-Semetic hate crime, "Mr. Borgen, as a family member of a victim of a heinous violent crime, your son, as you talked about, was a victim of a violent anti-Semitic hate crime committed at a pro-Israel event. Your son was jumped, beaten, and sprayed with mace. In fact, and I think it's important for the American people and my colleagues across the aisle to hear this, your son describes this as 'A whole crowd of people proceeded to kick me, punch me, beat me down. I felt a liquid being poured on my face. And at first I thought I was getting urinated on, but it turned out I was getting maced and pepper sprayed. My face was on fire. That pain was worse than the concussion and all this other stuff that followed. And yet the attacker, the attacker said, 'If I could do it again, I would do it again.' And yet District Attorney Alvin Bragg gave him a sweetheart deal.'"
"What is your message to District Attorney Alvin Bragg?" Stefanik asked.
"Between me and you, I lost faith in the justice system with Alvin Bragg," Borgen said.
"I don't feel anything's gonna get done," he continued. "In the other cases also. Hassan's attacker is walking around scot free like nothing happened. It's a disgrace."
Stefanik then asked Jennifer Harrison, Founder of Victims Rights NY, for her message to Alvin Bragg.
Ms. Harrison replied by sharing, "I'm a walking example of not ever being whole 18 years after losing a loved one under horrific circumstances and not seeing justice. My life will never ever be complete without Kevin. And knowing the murders are walking and free, spending Christmases and Easters with their family is beyond comprehension. So I hope that he will pay attention to what's happening here today and realize the effect that he's having on survivors of homicide victims for the rest of their lives."
Stefanik concluded by saying, "Thank you to the victims for the bravery, sharing your stories. Thank you to our former law enforcement officers for your leadership."