Cobleskill, New York – Congresswoman Elise Stefanik today was joined by dozens of farmers from multiple counties across New York's 21st District for a Farm Bill roundtable at SUNY Cobleskill. During today's event, she heard the priorities of local farmers for the 2023 Farm Bill.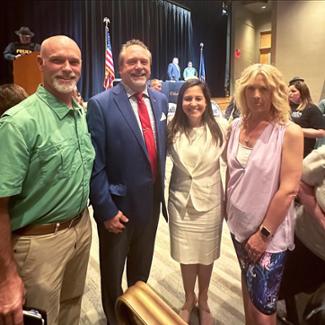 "Proud to be joined by dozens of local farmers at my Farm Bill roundtable, so I can directly hear their concerns and bring them to the highest levels as we work to pass a farm bill in Congress," Stefanik said. "I look forward to continuing to advocate for our farmers and deliver results for Upstate New York and the North Country."
"As the Farm Bill shapes up for this year, we are honored to have Congresswoman Stefanik with us today to hear directly from farmers from across Upstate New York, so our region's needs will be well-represented in this Farm Bill's priorities," said Assemblyman Chris Tague.
"Proud to welcome Elise Stefanik to SUNY Cobleskill today to host her Farm Bill roundtable. As our local farmers prepare for the upcoming Farm Bill, it is reassuring to know we have someone at the highest levels of leadership in Congress advocating for the future of agriculture in New York State," said Bill Federice, Chairman of the Board of Supervisors of Schoharie County.
"It's an honor to have Elise Stefanik in Cobleskill today to listen to our concerns. It is a privilege to know that she is prioritizing my needs and will be advocating for the future of Upstate agriculture in this year's Farm Bill," said MaryBeth Shults from Shults Farm in Montgomery County.
Today, Stefanik also released an online portal where farmers from across New York's 21st District can directly share their priorities for this year's Farm Bill with the Congresswoman.
Currently, Congress is in the early stages of writing the 2023 Farm Bill, a package passed every five years to support a strong agriculture industry and covers a wide range of programs and resources that apply to farmers. In addition to the input form released today, Stefanik will be working directly with local farmers across New York's 21st District, so she can advocate for them and bring their concerns to the highest levels.