Washington D.C. - Today, Congresswoman Elise Stefanik joined her colleagues to highlight how House Republicans' rigorous oversight has uncovered evidence that President Biden has potentially committed multiple impeachable offenses.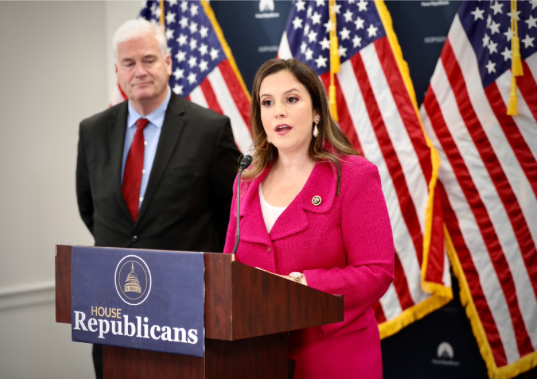 View the full transcript of her remarks below:
"Good morning. Welcome back. I hope you all had a productive August. We certainly did as House Republicans, and we're ready to get back to work this September. Yesterday, as you know, Speaker McCarthy announced House Republicans' intention to pursue an impeachment inquiry of Joe Biden. This is about transparency and answers for the American people and, ultimately, accountability for what I believe will uncover the biggest political corruption scandal in our nation's history.
For the past eight months, through the course of our Constitutional oversight duties, House Republicans have uncovered that Joe Biden has lied to the American people about his knowledge and involvement in his family's foreign business dealings and that he has potentially committed multiple, impeachable offenses. House Republicans' investigations have uncovered evidence showing Joe Biden repeatedly lied to the American people about his own knowledge and involvement with his son's foreign business dealings. When Joe Biden was Vice President, he joined dozens of Hunter Biden's business meetings by phone and in person. Detailed banking records show that the Biden family and their business associates received 20 million dollars in payments from foreign actors in places like Russia, China, Ukraine, and Romania, including payments during Joe Biden's time as Vice President. More than 150 transactions involving the Biden family and other business associates were flagged as "suspicious activity" by U.S. banks. And a "highly credible" FBI source alleges that Joe Biden received five million dollars in exchange for pressuring for the firing of a Ukrainian prosecutor who was investigating the Ukrainian natural gas firm that Hunter Biden was on the board of, Burisma.
These are allegations of abuse of power, obstruction, and corruption. And they warrant further investigation by the House of Representatives which is why the Speaker has directed the House committees to open a formal impeachment inquiry into President Biden. The American people deserve transparency, and this impeachment inquiry is an important next step to deliver transparency, facts, and accountability.
We are returning, as I said, from very successful and productive August district work periods where members were able to discuss with their constituents our efforts to deliver on our Commitment to America: an economy that's strong, a nation that's safe, a future built on freedom, and a government that's accountable.
We heard firsthand about the problems facing our communities including the destructive border crisis that is raging in my home state in New York.
Over the August work period, I was proud to lead a bipartisan congressional delegation to the Indo-Pacific and spoke with government and military leaders from our key allies and partners in Japan, Singapore, and Thailand about the looming threat of Communist China. Funding our military and bolstering our defense capabilities has never been more critical which brings me to this week on the floor.
House Republicans will tackle, head on, passing our Defense Appropriations bill to counter Communist China, eliminate wasteful woke programs infiltrating our military at the Biden Administration's ordering, and supporting our brave Servicemembers, with the largest pay raise ever."