Washington, D.C. – Congresswoman Elise Stefanik joined House Republican leadership ahead of President Biden's budget proposal to emphasize the threat our national debt will have on future generations of Americans after receiving a briefing from the Congressional Budget Office.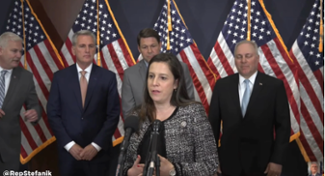 Read a full transcript of her remarks below.
I want to echo the sentiments and thank Speaker McCarthy for bringing together, on a bipartisan basis, this very productive briefing on one of the greatest threats that we face in our nation, that every family faces. Our debt is unsustainable.
When I think about the budget challenges we face, I think about hardworking families in my district, hardworking farmers, small business owners. When they are facing challenges, they open their books and look for common sense ways to find savings to ensure that they can continue to grow for future generations.
Today was about having those robust discussions. We had an informative briefing to start a sensible, reasonable conversation to make sure that we save our country and save our fiscal outlook for future generations of Americans like my son, and like so many of our viewers' grandchildren.