Washington, D.C. – Congresswoman Elise Stefanik led her colleagues to highlight the Lower Energy Costs Act (H.R. 1), which House Republicans will bring to the floor this week to address skyrocketing energy prices and counter Joe Biden's war on American energy as part of their Commitment to America.
In her remarks, Stefanik also detailed how House Republicans, led by Speaker McCarthy, are committed to a reasonable, sensible, and responsible path forward to the debt ceiling.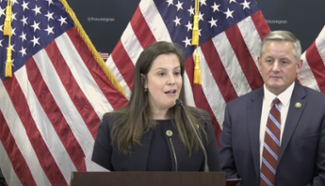 Read a full transcript of her remarks below:
Good morning, this week House Republicans will move our historic energy package to address the skyrocketing energy prices and Joe Biden's unprecedented war on American energy.
Since his first day in office, Joe Biden has enacted a radical Far Left anti-energy agenda that ended American energy independence, caused the average price of gas in my district to reach a historic high of over $5 a gallon this past summer, and this winter, in the North Country and Upstate New York, home heating bills reached their highest prices in over two decades.
Enough is enough.
H.R. 1, the Lower Energy Costs Act, is coming to the floor this week, and is a major pillar in House Republicans' Commitment to America. It increases domestic energy production, decreases prices, restores American energy dominance, and ends Joe Biden's war on American energy.
Shifting gears here on the debt ceiling. Joe Biden has been irresponsibly missing in action on the debt ceiling discussion, putting our already fragile economy in jeopardy.
This morning, Speaker McCarthy sent President Biden a letter presenting a reasonable, sensible, and responsible path forward to address our fiscal and economic crises. President Biden himself has negotiated debt ceiling agreements before –and he must join House Republicans on behalf of the American people to the negotiating table again.
American families themselves make hard decisions every day to stay within their budgets. They expect the federal government to do so as well.
Reining in out of control spending, reclaiming unspent COVID dollars, and strengthening work requirements that Joe Biden himself voted for as a U.S. Senator, will save hundreds of billions of taxpayer dollars.
These examples are just a few of how we can limit spending, save taxpayer money, and grow the economy to get us on a path towards a healthier economy for American families.
It's now my pleasure, as you know every week we highlight many of our rockstar freshmen, and I'm so excited to turn it over to Harriet Hageman to discuss how the Lower Energy Costs Act will help drive down energy costs for her constituents and hardworking Americans.