Washington, D.C. - Congresswoman Elise Stefanik highlighted the abhorrent rise in antisemitism on college campuses across America, including her alma mater, Harvard University, following the barbaric Hamas terrorists in Israel during today's Education and Workforce Committee hearing.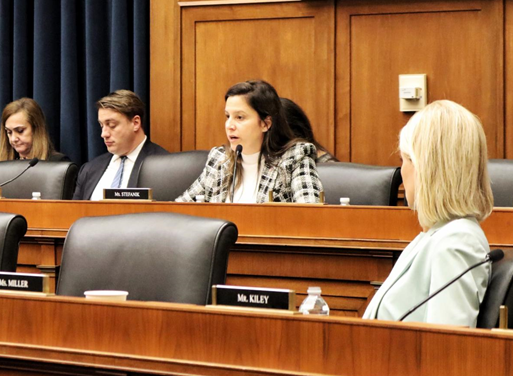 Highlights from the questioning include:
Stefanik:
Hamas's barbaric terrorist attacks against innocent Israeli civilians on October 7th shocked the conscience of the free world. And in fact, this morning, we began with a viewing working with the Israeli embassy of the horrific, heinous atrocities committed by Hamas terrorists against Jewish civilians, babies, the elderly, young people at a festival, innocent civilians. These were atrocities. These were met, unfortunately, with callous cruelty at universities across America, including at my alma mater, Harvard University. Instead of leading with moral clarity and condemning Hamas's terrorist attacks, university administrators at Harvard and other institutions failed their students through enabling the promulgation of horrific antisemitism which has now evolved into violent attacks against Israeli and Jewish students.
As the world watched in horror after October 7th, over thirty radical student organizations at Harvard released a joint statement outrageously claiming that Israel was entirely responsible for the Hamas terrorist attacks carried out against innocent Israeli civilians. Unfortunately, following this statement, Harvard leadership remained silent for two days allowing their silence to create a vacuum that was filled by the voices of repugnant actions of the antisemitic student organizations.
My question, and I'll begin with Mr. Marcus, what role should university leaders play in condemning clearly and explicitly antisemitic statements like the one that the Harvard student organizations posted after October 7th and what actions should administrators take to root out antisemitism on campuses across America?
Kenneth Marcus, Founder and Chairman of the Louis D. Brandeis Center for Human Rights Under Law: At a minimum they should condemn anti-Jewish harassment with the same vigor as they do other forms of discrimination and we're not seeing that at Harvard or in other places. But beyond that, when you see 30 student groups who are celebrating atrocities like that, you need to have tough conversations throughout your university about what you are doing to harbor this. At Harvard University, we, on behalf of three clients, had found discriminatory conduct which the university agreed was a violation of their own policies. And we're not seeing significant responses to that. When administrators fail to address acknowledged antisemitic activity, they should not be surprised when it gets even worse.
Stefanik: My follow up, Mr. Marcus, is how have you seen the curriculum at American institutions of higher education shaped to foster these environments where hatred has been cultivated among the student body, and specifically curriculum that calls for the eradication of the State of Israel and the genocide of the Jewish people?
Marcus: Let me give you just one example and that's Middle East Studies programs that are funded under Title VI of the Higher Education Act by the Congress of the United States. There is now legislation on the books that requires Middle East Studies programs to certify that there will be a balance of perspectives and a diversity of views. And yet what if anything is done to ensure that's happening? I would certainly like to see scoring of the applications. I would like to see some follow up. I would like to see action when institutions fail to honor the commitments that they are making, in writing, to the U.S. government.
Stefanik: I want to submit for the record, Mr. Chair, the letter dated October 13 of Republican members of the House and Senate who are also graduates of Harvard University, I was proud to lead this letter condemning the failure of the administration to speak out explicitly and clearly. I've called for the resignation of President Claudine Gay and we will continue standing up with moral clarity that is so very much needed on college campuses in this country and around the world, and I yield back.