Washington, D.C. – In case you missed it, the New York Post covered Congresswoman Elise Stefanik's charge to hold the Biden Administration accountable for Biden's border crisis.
Following reports that the Swanton Sector of the Northern Border has seen an 846% increase in illegal crossings since October and more illegal crossings in January than the previous 12 Januarys, Stefanik led a letter to Department of Homeland Security Secretary Alejandro Majorkas calling on him to immediately secure the border. The letter was co-led by Representatives Nick Langworthy (R-NY), Mike Kelly (R-PA), and Ryan Zinke (R-MT).
Yesterday, Stefanik joined the launch of the Northern Border Security Caucus, co-chaired by Representatives Mike Kelly (R-PA) and Ryan Zinke (R-MT). Watch her full remarks here.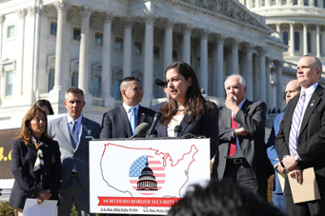 Stefanik has been leading the charge to bring attention to the impact of Biden's border crisis on the Northern Border for two years.
Read the full article below:
New York Post: US border with Canada on pace to quadruple number of migrant encounters
By: Carl Campanile
February 28, 2023
It's not just the southern border that's become a crisis under President Biden — the U.S. border with Canada is on pace to quadruple migrant encounters from the north.
In a scathing letter to Biden's Homeland Security Secretary Alejandro Mayorkas, Rep. Elise Stefanik, who represents much of New York's northern border with Canada, rips the administration for letting a nearly four-fold surge of migrants and killer drugs like fentanyl sneak into the US from the northeastern front, which also includes Vermont and Maine.
Stefanik said Customs and Border Patrol agents reported 2,238 migrant encounters for all of fiscal year 2022. But in the first four months of the current fiscal year, migrant encounters have skyrocketed to 2,227 — nearly surpassing last year's total.
"This recent influx, along with spikes in drug smuggling and lack of US Border Patrol (USBP) agent staffing, is yet another troubling example of your failure to protect and secure the homeland," Stefanik, a top GOP House leader, wrote in the letter, co-signed by fellow upstate Rep. Nick Langworthy.
"Over the last two years, southern border states have been overwhelmed with record illegal immigration, drug smuggling, and crime that has continuously poured into the local communities," she wrote.
"This administration has watched idly as these our states bear the brunt of disastrous and dangerous policies. Now, your refusal to address these crises has left America's northern border communities, from Alaska to Maine, along the world's longest international border, at the forefront of a growing threat to our national security."
Woes at the northern border are just the latest headache for Mayorkas and Biden.
Two Republican lawmakers have filed articles of impeachment against Mayorkas, claiming he has committed "high crimes and misdemeanors" related to his handling of the southern border crisis.
Meanwhile, New York City and other US urban centers have been scrambling to serve a never-ending flow of thousands of migrants to the city from the southern border — with Big Apple Mayor Eric Adams all but begging the federal government to step in with financial assistance to help defray growing shelter, food and other costs.
"Agents continue to put themselves in harm's way to keep our communities safe, and this 475% increase in encounters from the first four months of FY22 is both unsustainable and symptomatic of your broader failure to secure the border," she wrote of the alarming northern exposure.
"As temperatures reach sub-zero levels and USBP agents conduct life-saving search and rescue missions, you continue to insist you are managing the border in a safe, orderly, and humane manner. However, our northern border is on track to see more than 10,000 encounters in FY23, while your department continues to downplay the threat posed by a wide-open northern border," said Stefanik, the House Republican Conference chairwoman.
In addition to increases in illegal immigration, the northern border has seen a spike in drug smuggling. Excluding marijuana, drug smuggling seizure weight increased by 596% along the northern border from fiscal year 2021 to fiscal year 2022, according to stats cited by the congresswoman.
Seizures of the stimulant khat increased by 1,756%, ecstasy by 736%, ketamine by 663%, and methamphetamine by 204%.
"Even more concerning," Stefanik said, "CBP seized 14 pounds of fentanyl in FY22 along the northern border, enough to kill an estimated 3.17 million people. The damage this lethal drug can do to a community has been well-documented over the years, notably across New England states. We cannot allow another avenue for fentanyl smuggling into our communities that are already inundated by the drug crisis down south."
At the same time, Border Patrol staffing has remained relatively flat amid the jump in illegal border crossing and drug smuggling along the Canadian border, Stefanik said.
There are 2,019 Border Patrol agents between the 138 ports of entry along the northern states covering 5,525 border miles, and some of them are assisting with duties at the southern border, Stefanik said.
"Officials from the northern Border Patrol sectors tell us they have also assumed additional work to support southern border agents — explicitly, digitally processing illegal migrants who have been apprehended at the southern border," said Stefanik.
She also cited a 2019 US Government Accountability Office report that Homeland Security doesn't even have performance measures to assess security concerns along the northern border.
"These surges in border encounters and drug smuggling coupled with a shortage of Border Patrol agents and lack of security measures place America's northern border at serious risk. As winter turns to spring, we are deeply concerned the northern Border Patrol agents will be even more overwhelmed, under-resourced, and under-manned," Stefanik warned Mayorkas.
"We ask that you provide a full account of what the Department of Homeland Security (DHS) will do to mitigate the flow of illegal migrants and illicit drugs into the US across our northern border."
Mayorkas and the Department of Homeland Security had no immediate comment.